WARNING: GRAPHIC
A man who went missing in a remote Indonesian village on the island of West Sulawesi on Sunday night has been found – inside a 7m-long python.
Footage released by Viral Press shows the horrifying moment 25-year-old Akbar Salubiro's body was cut out of the giant snake's belly.
Neighbours reported cries from the palm grove the night Salubiro disappeared but it wasn't until the next day when their fears were confirmed.
A spokesman for police in West Sulawesi told BBC Indonesia the man had been missing for 24 hours.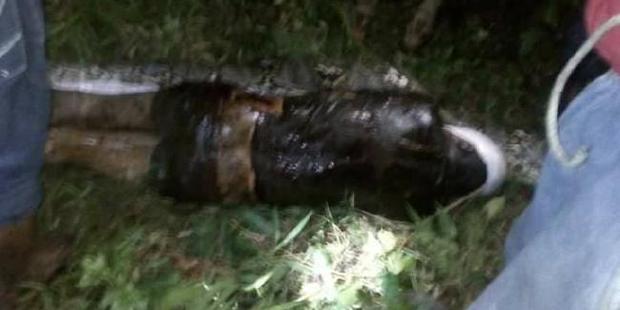 It is believed Salubiro was swallowed alive after he left his home to harvest palm oil. But he didn't get far.
When his family became concerned over his whereabouts, they spotted the python in Salubiro's backyard looking a little, well, full.
His body, still intact, was discovered inside the snake after residents sliced open its belly.
The footage, which runs for five minutes, shows horrified locals peeling open the snake, only to be confronted with the man's lifeless feet.
As the snake's body is sliced open, it reveals more and more of the missing man, still clothed.