Dramatic pictures show bloodied bodies littering Westminster bridge and the vicinity outside the UK Parliament as heroic bystanders desperately try to save the lives of those injured.
Multiple shots were fired near the UK Parliament on Wednesday in London during an incident that also saw people hit by a car on Westminster Bridge.
The Metropolitan Police said the assaults at and near Parliament are being treated "as a terrorist incident until we know otherwise" in a statement released at 3.31 pm local time.
In a reconstruction of the timeline, journalists report that it appeared that a vehicle came off the bridge, drove into the fence outside Parliament and a man then ran into the main building where it was reported he wielded a knife, attacked a police officer and was shot.
David Lidington, leader of the House of Commons, told members of Parliament a "police officer has been stabbed" and an "alleged assailant was shot by armed police."
Lidington added that there were reports of further "violence incidents" in the area.
Matt Haikin, from London, 44, said he was in shock after seeing the aftermath of the crash on the bridge.
He said: 'I just saw a car that had clearly driven off the road into the fence outside Parliament.
'As I went past I noticed there was a body next to it and quite a lot of blood and people standing around.
'Fairly shortly after I heard some shots, at which point it was clear it wasn't just an accident, something else was going on.'
He then moved to look through the Palace of Westminster gates and saw 'a lot of people, people in uniform, I think I saw a couple of bodies on the ground, I couldn't tell you if they'd been asked to lie down or if they were injured'.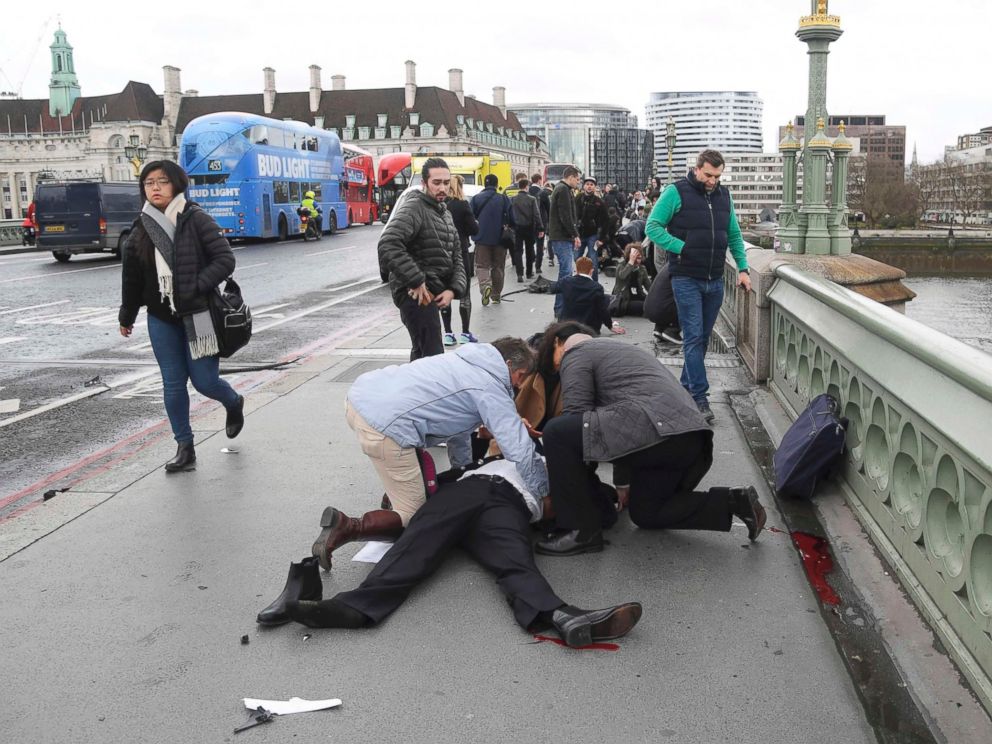 Toby Melville/Reuters
Injured people are assisted after an incident on Westminster Bridge in London, March 22, 2017