by Emele Onu and Paul Wallace
Emefiele won't allow 'faceless' people to control rates

The currency shouldn't be as weak as the black market suggests
Nigeria's central bank Governor Godwin Emefiele said he is committed to a currency regime that sent foreign investors fleeing from the nation's markets and exacerbated a dollar shortage.
The Central Bank of Nigeria won't allow "faceless and criminally minded people to destroy the currency under the guise of a free float as is being canvassed,'' Emefiele said in a speech on Saturday in Abuja, the capital, while accepting an award from a local newspaper. Independent estimates and "purchasing power parity analysis" by the regulator showed that the currency shouldn't be so low on the unofficial market, which has been influenced by "criminal activities," he said.
Speculation that Nigeria would allow the currency to drop became widespread after the Abuja-based central bank eased some capital controls last month, increased sales of dollars and weakened the exchange rate for people paying overseas medical and school bills. While Emefiele abandoned the currency's peg of 197-199 to the greenback in June, it has been stuck between 305 and 317 on the official market since August even as the black-market rate tumbled to 500.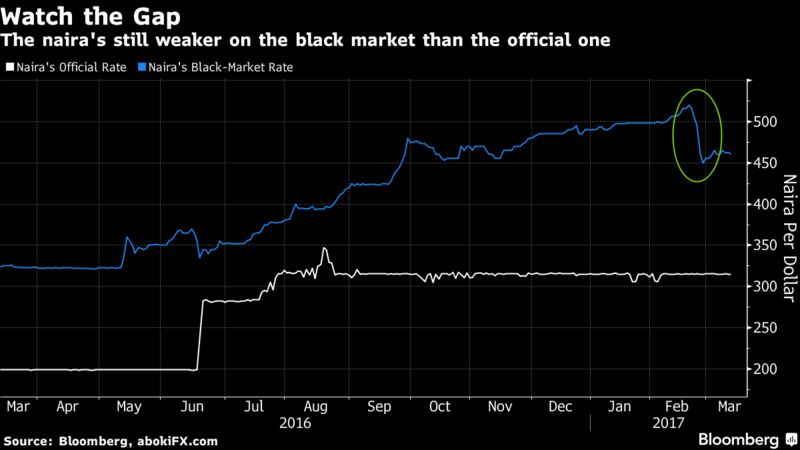 The West African nation imposed tighter foreign-currency controls from late 2014 to protect the naira and reserves as oil prices plunged. Importers of 41 goods the government has deemed non-essential or said should be processed locally, including textiles and rice, have been barred from accessing the official foreign-exchange market, forcing them to buy dollars on the black market.
The naira fell to a record 520 per dollar in unofficial trading last month before strengthening to 460 this week, 32 percent weaker than the official rate. Forward contracts suggest the currency will probably depreciate. Six-month forward contracts fell 0.2 percent to 376.19 per dollar by 3:57 p.m. in Lagos.
The central bank will probably want to narrow the naira's black-market spread and boost its reserves further before liberalizing the foreign-exchange regime, Razia Khan, head of Africa research at Standard Chartered Plc, said in a note to clients. Any such move may also require a removal of Nigeria's price cap on gasoline, most of which it imports, she said.
Emefiele also said:
Inflows into Nigeria have declined to less than $700 million per month from $3.6 billion in June 2014, while demand for foreign currency is about $4.8 billion
The central bank will "continue to meet all legitimate transaction-based foreign exchange demands in the market"
While the ban on the 41 items wasn't "cast in stone," calls for a reversal now were wrong given the "new realities of nationalist and populist sentiments sweeping across the world," including Brexit and the election of Donald Trump as U.S. president
"I have heard commentators suggest we should follow Egypt's example and free the naira. What they do not tell you is that following their currency adjustments, inflation today in Egypt is over 30 percent. Is that what we want in Nigeria?"
President Muhammadu Buhari, who has backed Emefiele's stance on the naira, may reshuffle his cabinet this week and make changes to senior central bank personnel, Lagos-based Punch newspaper reported Sunday, citing an official it didn't name. Buhari, 74, resumed work on Monday after spending seven weeks in the U.K. getting tests for an undisclosed ailment.
Bloomberg