Sovereign debt pool of $44.5 trillion starts going green

Securities are designed to mitigate, cope with climate change
Nigeria, other Governments spending to avert climate change have stirred a green bond giant inside the global sovereign debt pool worth trillions of dollars.
Nigeria is expected to be third in line, with a domestic green bond in naira planned for March. Like green bonds issued by companies, securities sold by governments confer a steady stream of payments over a fixed period of time to investors.
Nine nations in 2017 are expected to issue securities that help them meet climate pledges, according to Climate Bond Initiative Chief Executive Officer Sean Kidney. Government infrastructure projects supporting renewable energy, clean transportation and sustainable agriculture are among the sectors countries could finance with green bonds, which until recently have been the domain of private companies and multilateral development banks.
"It'll be a political decision about communicating commitment to COP21 by being very public about how you're funding, as well as doing what you say you were going to do," according to Jonathan Weinberger, global head of capital markets engineering at Societe Generale SA. "What drives this is the broad program to call attention to the importance of the topic and the work that's being done."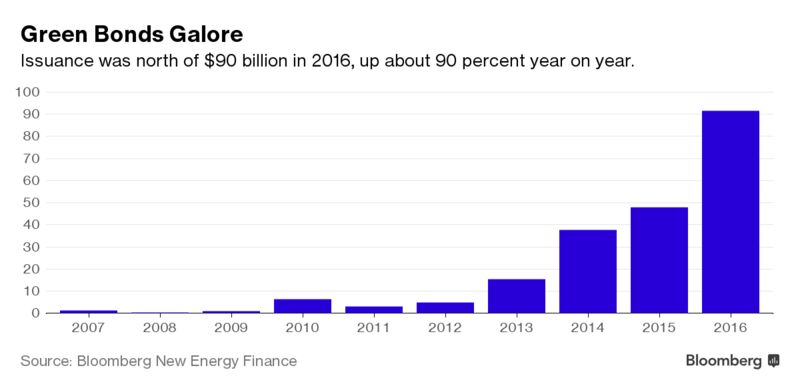 Weeks after Poland sold the first sovereign green bonds, France is roadshowing its version, which officials expect will be at least 2.5 billion euros ($2.7 billion) in size.
Governments are expected to grab a 10 percent share of green bonds tendered this year, in a market predicted to grow about a third to $123 billion, according to Bloomberg New Energy Finance. The sovereign share could expand rapidly if more countries start tapping debt markets with their climate commitments in mind, according to HSBC Holdings Plc.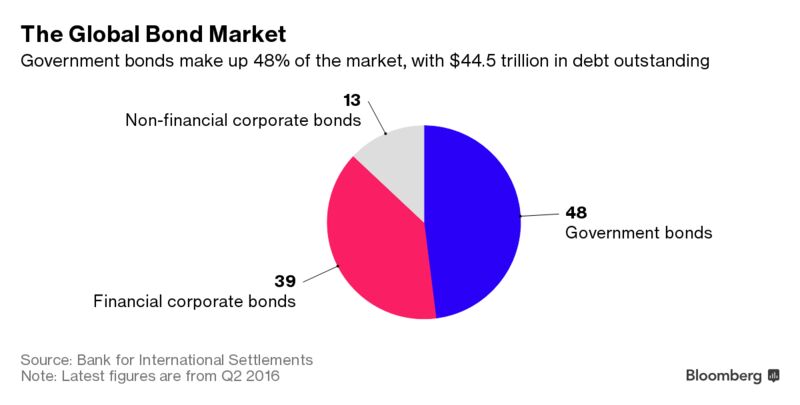 "This has always been the role of governments in terms of infrastructure, they've been doing it for 160 years," said the Climate Bond Initiative's Kidney by phone from Beijing. "Now we have to switch it to green. This is going to be a big year for green sovereigns without a doubt."
Climate Change Pact That Made History Now Faces Trump: Quicktake
Investors are looking much more closely at environmental sustainability when they consider where to park their capital, according to Alex Struc, a London-based portfolio manager at PIMCO Europe Ltd.
"It's massively tied to COP21," he said referring to the December 2015 Paris agreement. "It provided a framework for private capital to marry up with a formal sovereign commitment. We're definitely seeing increased client demand for products that can demonstrate impact or contribute to positive social change."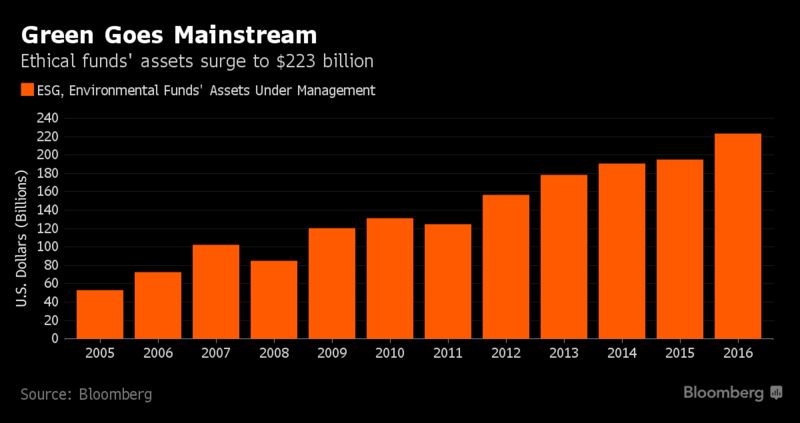 The Paris accord — which is estimated to need $16.5 trillion for full implementation — was widely discussed at the World Economic Forum this week in Davos, Switzerland, where polls showed global leaders were more worried about the kinds of extreme weather triggered by global warming than any other risk.
Green bonds could be a way to future-proof environmental policies and plans, according to Kidney. Cash raised must be allocated to projects that meet predetermined requirements and solidify climate pledges, although the green bond market has previously seen some controversy when corporations have used the funds for ventures that environmentalists have not considered green enough.
Chinese President Xi Jinping on Tuesday urged U.S. counterpart Donald Trump to stick by the Paris agreement and said that China's green investments are already "paying off." Chinese companies sold the most green bonds last year, totaling $33.6 billion, according to HSBC. The central government in Beijing is also said to be considering an issue.
"We know that China's been looking at it," Kidney said "If they do something, it'll be very big."