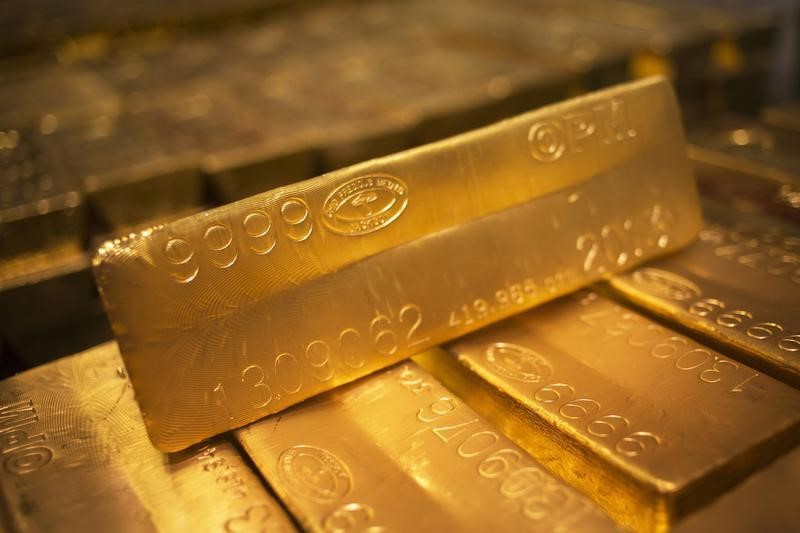 Gold prices edged lower on Tuesday, as investors looked ahead to U.S. retail sales data later in the session for further indications on the strength of the economy and the timing of an interest rate hike.
Gold futures for August delivery on the Comex division of the New York Mercantile Exchange dipped $1.70, or 0.15%, to trade at $1,153.70 a troy ounce during European morning hours.
A day earlier, gold fell to $1,144.80, a level not seen since March 17, before closing at $1,155.40, down $2.50, or 0.22%. Futures were likely to find support at $1,142.40, the low from March 17, and resistance at $1,163.90, the high from July 13.
Also on the Comex, silver futures for September delivery slumped 12.9 cents, or 0.83%, to trade at $15.32 a troy ounce. On Monday, silver declined 2.4 cents, or 0.16%, to end at $15.45.
The Commerce Department is expected to report that retail sales rose by 0.2% in June, after rising 1.2% in May. Core sales are forecast to gain 0.5%, after increasing 1.0% in May. The U.S. is also to release data on import prices and business inventories later Tuesday.
Wednesday's testimony by Federal Reserve Chair Janet Yellen to the Senate Banking Committee will also be closely watched for any indication on when U.S. interest rates may start to rise.
Last week, Fed Chair Yellen said that the central bank is on track to raise interest rates at some point this year, but warned over weakness in the labor market.
Gold prices have been under pressure in recent weeks amid indications that the U.S. economy is regaining strength after a recent bout of weakness, supporting the case for higher interest rates later this year.
Expectations of higher borrowing rates going forward is considered bearish for gold, as the precious metal struggles to compete with yield-bearing assets when rates are on the rise.
The U.S. dollar index, which measures the greenback's strength against a trade-weighted basket of six major currencies, was last at 97.09, up 0.15% for the day.
The euro slid lower as investors waited to see if the Greek parliament would support harsh austerity measures demanded by the country's creditors in exchange for a deal to avoid financial collapse.
Greek Prime Minister Alexis Tsipras was to meet with MP's on Tuesday, but faced an uphill battle to win support for a third bailout deal offered by the country's creditors.
Four pieces of legislation must be passed by the end of the day on Wednesday, including pension and sales tax reforms.
Elsewhere in metals trading, copper for September delivery slipped 2.4 cents, or 0.93%, to trade at $2.521 a pound during morning hours in London. Prices of the red metal slumped to a six-year low of $2.381 on July 8.
China is scheduled to release data on second-quarter gross domestic product on Wednesday. The report is expected to show the world's second largest economy grew 6.9%, slowing from 7.0% in the preceding quarter.
Beijing has set a growth target of "around 7.0%" in 2015 after the economy grew 7.4% in 2014, the slowest pace in 24 years.
The Asian nation is the world's largest copper consumer, accounting for almost 40% of world consumption last year.
Gold declines ahead of U.S. retail sales data, Yellen in focus