Third-quarter revenues at BMW rose 4.5 per cent to €19.6bn, helped by a rebound in European car sales. Revenues over the nine-month period were up 3.4 per cent.
Earnings before interest and taxes rose to €2.26bn, beating estimates at €2.03bn. Net income was €1.31bn, just below estimates at €1.36bn.
The German carmaker said "numerous markets" in Europe "finally returned to positive growth after stubbornly weak performance in recent years".
However, it warned: "If the economic situation in Europe does not continue to stabilise, new challenges will have to be faced, despite the current upward trend."
While the economic recoveries in the US and UK have been gaining traction this year, the eurozone has fallen behind as it struggles to stimulate demand amid stubbornly high unemployment and falling inflation.
Car markets in Europe expanded overall by 5.8 per cent. The fastest growth rates were recorded by those countries that suffered the greatest contractions in recent years, with Spain rebounding with a 17.2 per cent gain and Portugal jumping 35.3 per cent. These figures compared favourably with the more moderate growth rates recorded in Germany, which rose 2.9 per cent, a gain in France of 2.4 per cent and Italy 3.7 per cent.
The cyclical upturn in the UK had a positive impact on car registrations, which grew sharply by 9.1 per cent.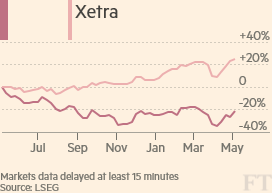 Overall car sales last quarter were up 5.8 per cent to 509,669, led by an 8 per cent rise in Rolls-Royce sales. BMW sales rose 6.9 per cent, while Mini sales inched up 0.2 per cent.
In China, an increasingly important market but where the pace of broader economic growth has been slowing, BMW said registration figures over nine months jumped by 12.9 per cent, "mainly reflecting continued strong demand from private consumers".
But other emerging markets showed problems. Registrations in Brazil fell 9.4 per cent. In Russia they declined 12.3 per cent.
Munich-based BMW, which employs a workforce of 114,587, left its 2014 outlook unchanged.