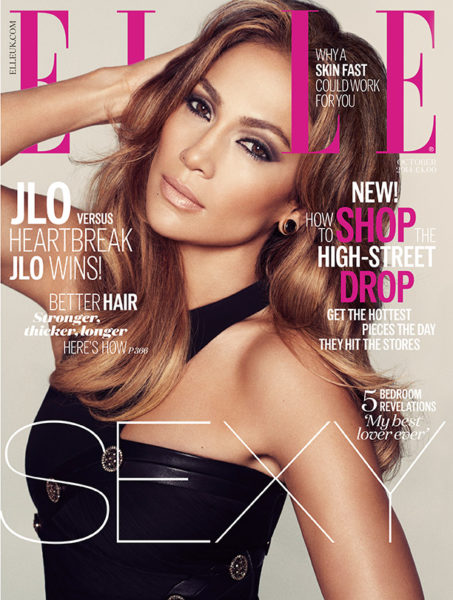 Jennifer Lopez is striking a fierce pose and talking on love in the October 2014 issue of Elle Uk.
The 45-year-old singer, actress, fashion designer and mum of 2 was photographed in Paris by Txema Yeste wearing a Versace gown with accessories by Laura Lee Jewellery and Lock & Co Hatters.
In the pages JLo opens up about looking for the one and her mistakes when going into relationships.
On Love
Everybody has seen that I make mistakes. Every single album I have ever made is about love. But I am not going to give up. I have to look at what I do wrong. I rush in, I get swept up, I ignore the signs. But so many of us are guilty of these things. Each time it goes wrong it's hard. I get really hurt but I have to let myself go: 'What did I do? What can I learn?' And as hard and as hurtful as things get, I want to believe I will be able to go one step higher. I've got to hope that if I keep going I will eventually get it right.

On if she has given up on love
No! I still believe in love. The nirvana man, he's out there somewhere. But you just have to work at it. You have to work at everything
On future career plans
I like to tick a lot of boxes. I have a five-year plan. I always have a five and a 10-year plan. If this business is about anything, it's about reinventing yourself. You have to keep moving, taking risks.
The issue is set to hit stands on Thursday 4th September 2014.
Credit: www.elle.com