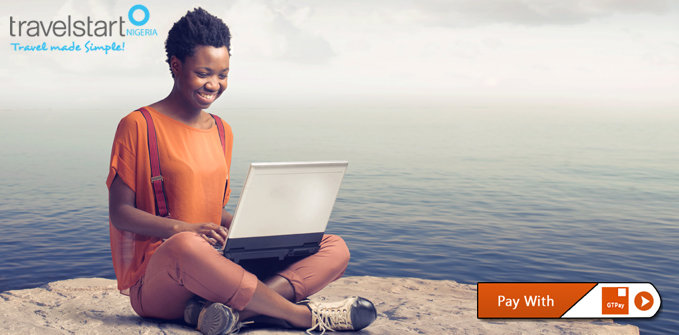 Travelstart, Africa's leading online travel agency, today announced its partnership with Guarantee Trust Bank for GTPay integration to enable travel consumers to easily pay for their flights online with their debit cards. GTPay is a secure online payment functionality which has been integrated on Travelstart.com.ng to help customers facilitate payment when they use their debit or credit cards.
The Country Manager, Lilian Obinna-Igwe, explains "The completion of GTPay integration on Travelstart website would enhance self-service payment transaction for customers/cardholders. It also protects Travelstart as the merchant from fraud and charge back liabilities due to the compulsory integration of 3D secure on the platform. With GTPay all card types, domestic & International MasterCards, Visa cards and also Verve cards are accepted and processed for payments. Travelstart is also provided with a console to view transactions as they occur online real-time. It's a seamless process and we are certain this will increase our sales going forward."
Card payments are the fastest growing retail online payment option in Nigeria, it is a typical payment method that most Nigerian e-commerce websites use to encourage online shoppers, and has helped e-commerce websites reach a larger audience. The introduction of GTPay will help create the unified and secure online payment experience for travel customers purchasing flights on Travelstart.com.ng.
According to Olufemi Nwaosa of the Internet Solution, E-Payment Group of GTBank; "Travelstart has completed the set-up of GTPay on their website. GTPay is the foremost web payment gateway in Nigeria with over 2,500 merchants currently providing card payment options to more than half of the Nigeria e-commerce merchants. With GTPay on Travelstart, passengers can now book and make payment with both local cards (Verve cards, MasterCard Naira and Visa card naira) and International cards (MasterCard and Visa). This feature would enable straight through processing for e-ticket issuance."
GTPay integration on Travelstart payment page is a powerful solution enabling Travelstart to accommodate its numerous customers in seamless and automatic way. The GTpay payment solution seamlessly secures cardholder's data and other e-commerce transactions made on the website.
Since its launch in 2012, the online travel agency has witnessed a substantial growth in website traffic and online sales. In line with this growth, Travelstart is responding to the increasing demand of travel consumers in Nigeria by introducing the GTpay payment option on the website to provide them with an easy and secure way to pay for their flights online. Travelstart Nigeria offers other payment options for online travel consumers such as EFT, Cash payment to their bank accounts or at the office.