The pound fell against all its major peers after The Times reported that U.K. Prime Minister Theresa May's team is preparing for Scotland to potentially call for an independence referendum.
Sterling, which has been held hostage by politics since a Scottish referendum in 2014, fell as much as 0.6 percent after the newspaper cited unidentified government sources as saying May could agree to a new Scottish vote, but on condition it is held after the U.K. leaves the European Union. It stayed lower even after May's spokesman Greg Swift said on Monday that there should be no second Scottish vote.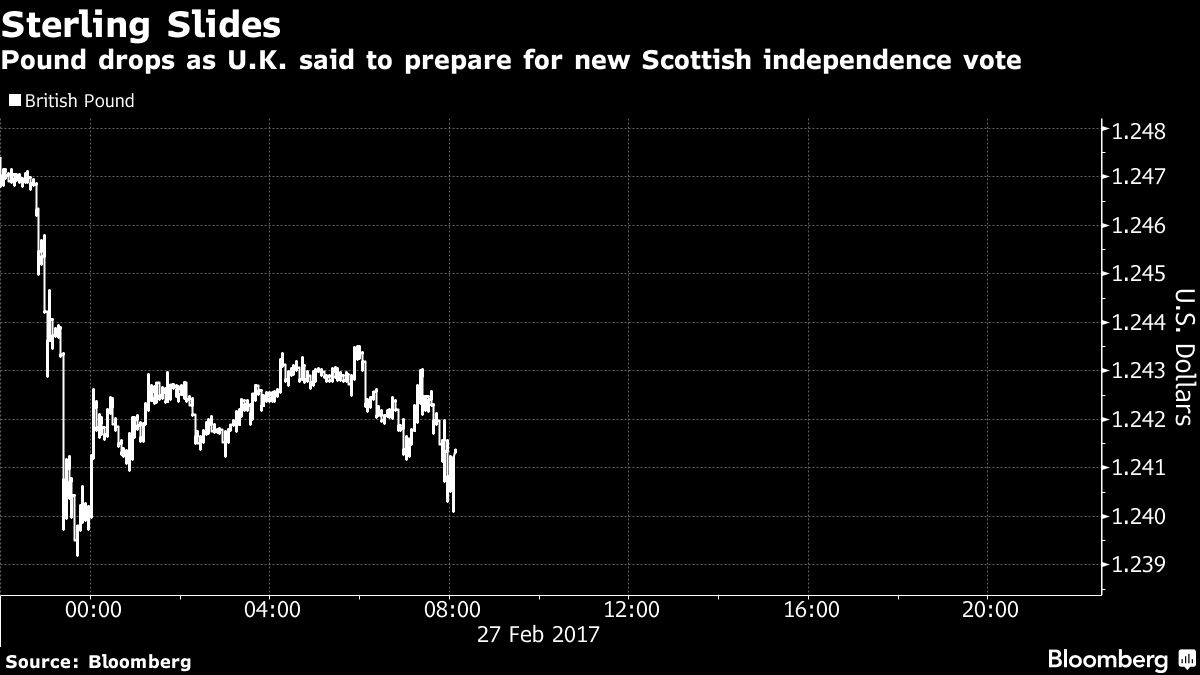 Talk of Scotland leaving the U.K. after the Brexit vote isn't new. Scotland voted 55 percent to 45 percent in the last referendum to stay inside the U.K.
"The eventuality hasn't been largely factored in the pound's value so far," wrote Ipek Ozkardeskaya, a senior market analyst at London Capital Group Limited. "If Scotland decides to proceed with the second referendum to quit the U.K., there would certainly be another fundamental downshift in the pound's value, both against the U.S. dollar and the euro."
The House of Lords begins on Monday a detailed examination of the bill authorizing May to trigger the nation's withdrawal from the EU.
GBP/USD drops 0.4% to 1.2410 after sliding to 1.2384, lowest level since Feb. 15

The pair is range-bound, 1.2347 and 1.2582 are breakout trigger levels
Resistance lies at 1.2491-96, Asia high, 21-DMA, followed by 1.2570, Feb. 24 high
Support at 1.2383, Feb. 15 low and 1.2347, Feb. 7 low

EUR/GBP climbs 0.6% to 0.8528, having earlier reached 0.8534, highest since Feb. 20

Stays bearish despite recovery back above 200-DMA
Resistance at 0.8539, 55-DMA, followed by 0.8558, Feb. 20 high
Support at 0.8461, Asia low, and then 0.8422, Feb. 24 low

If the market does seriously think there can be another independence referendum before the U.K. leaves the EU, "then remembering how hard the pound fell in early September 2014 just in front of the prior referendum, the memory of that makes sterling a fairly easy sell here," said Ray Attrill, global co-head of foreign exchange at National Australia Bank Ltd. in Sydney. "I suspect there's been a bit of an overreaction here"
Leveraged and macro funds hit bids in response to the report, an Asia-based foreign-exchange trader said
May's government is setting aside time for a Parliamentary battle to overturn changes she fears could be made to her draft Brexit law when it's debated in the House of Lords this week
Some information comes from FX traders familiar with the transactions who asked not to be identified because they are not authorized to speak publicly