The central bank is `fine-tuning' rules on currency trading
Nigerian President Muhammadu Buhari hinted for the first time that he would accept a devaluation of the naira, spurring speculation it may take place early next year when the local market reopens for trading.
The Central Bank of Nigeria is fine-tuning the management of foreign exchange and will introduce "some flexibility" that will encourage additional inflows, Buhari told lawmakers in Abuja, the capital, on Tuesday as he presented the country's 2016 budget.
"I am aware of the problems many Nigerians currently have in accessing foreign exchange for their various purposes," the president said. "These are clearly due to the current inadequacies in the supply of foreign exchange. We are carefully assessing our exchange-rate regime, keeping in mind our willingness to attract foreign investors, but at the same time managing and controlling inflation to a level that won't harm average Nigerians."
The currency of Africa's biggest oil producer and economy has been all but fixed at 197-199 per dollar since early March, with the central bank Governor Godwin Emefiele curbing foreign-exchange trading and introducing import controls after the naira fell to a record low as crude prices plunged. That's caused investors including Aberdeen Asset Management Plc and Morgan Stanley to sell naira bonds and stocks in anticipation of a devaluation, which would cause losses on their holdings, and hindered the country's growth.
Devaluation Coming
The president's change of tone means a devaluation and loosening of currency-trading restrictions may take place about Jan. 4, when the central bank reopens the interbank market, which has been shut since Dec. 18 for the Christmas holidays, according to Razia Khan, the London-based head of Africa research at Standard Chartered Plc, which predicts the naira will weaken to 220 per dollar in the first quarter and 228 by the end of 2016.
"There's recognition that the current system isn't working and they need to move to something better," Khan said by phone. "There could be some reset of the mid-rate to a new point, with a band around that. No one expects Nigeria will move to a free-float. That wouldn't be in keeping with what the president said about keeping the interests of all Nigerians in mind."
Buhari, a 73-year-old former general who also tried to prevent the currency weakening when he last ruled Nigeria in the mid-1980s, said in September it wouldn't be "healthy for us to get the naira devalued." A weaker currency could stoke inflation in a country that imports most manufactured goods and is politically difficult because the public regards the exchange rate "as a performance gauge," according to Chris Becker, an analyst at Investec in Johannesburg.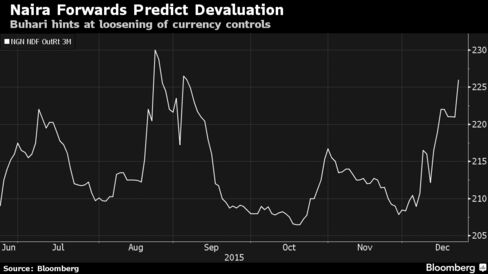 Prices of three-month naira forwards weakened 2.3 percent to 226 per dollar on Tuesday, the highest level since Sept. 4 and suggesting the currency will drop 12 percent in that period. Twelve months forwards also fell, predicting a decline of about 25 percent in the naira to 264.5 in a year.
"To the investors, business owners and industrialists, we are aware of your pain," Buhari said. "To the farmers, traders and entrepreneurs, we also hear you. The status quo cannot continue."
The president on Tuesday asked lawmakers to approve the country's biggest ever budget as he looks to revive the economy expanding at its slowest pace in 16 years. Buhari outlined plans for the government to spend 6.08 trillion naira ($30.8 billion) in 2016, an increase of about 20 percent from this year. The deficit will more than double to 2.2 trillion naira, or 2.16 percent of gross domestic product. Nigeria has seen its finances battered by crude prices that have fallen almost 70 percent in the past 18 months to below $40 a barrel. The commodity accounts for two-thirds of government revenue.
Ibrahim Mu'azu, a spokesman for the Abuja-based central bank, didn't answer calls to his mobile phone or immediately respond to a text message seeking comment.
Source: Bloomberg, Naija247news